Welcome to HOW - make type theory a useful tool in everyday life.
"I hear and I forget; I see and I may remember; I do and I understand"
These famous words have inspired us to make HOW and we believe that type theory is best understood through "doing".
HOW | The Hands On Way To Improve
HOW is a set of "hands-on" cards that with an easy and direct approach helps to implement type theory – Jung's theory of personality types.
HOW shows you "how" you can proactively work with type theory – "do and understand."
HOW is based on the four dimensions and eight preferences of type theory.
HOW can be used regardless of the typing tool you use (JTI, MBTI, etc.).
HOW is developed for people who have been introduced to type theory and know their type code.
HOW is a practical tool that makes it easy to translate the theory about types and preferences into practical use in everyday life.
HOW is available in both Danish and English.
WHY we have developed HOW
Typology is a theory used as a basis for personal development and team development based on the fact that people are different. It is a solid and validated model that is almost 100 years old. However, we must translate the theory into practice to get value in everyday life.
It is our experience over the years that many companies have sought concrete and readily accessible materials so that they can work with type theory, "when the consultants have left the building." There just hasn't been anything.
Many people, therefore, forget their knowledge about type theory or give up merely because they do not know "how" to make use of it.
This is not the way it should be, and in 2016 we decided to do something about it.
We have developed HOW with regards to "The HOW – Formula"
KNOWLEDGE + WILL + EMBODIMENT+ TRAINING = DEVELOPMENT
Most have gained "knowledge" and "will" after participating in a workshop – to use typology and to work with more tangible development goals. But if you stop here, there will be little development. HOW helps you with "embodiment" and "training." The elements in the formula are crucial if you want to ensure development.
Type theory must be used in everyday life to have value. HOW helps managers and employees maintain their knowledge of type theory and create development on their own, and HOW is an invaluable tool for consultants and HR that introduce type theory or support the subsequent implementation process.
HOW ensures that the investment in a type theory process gets the intended effect. That is the purpose of HOW.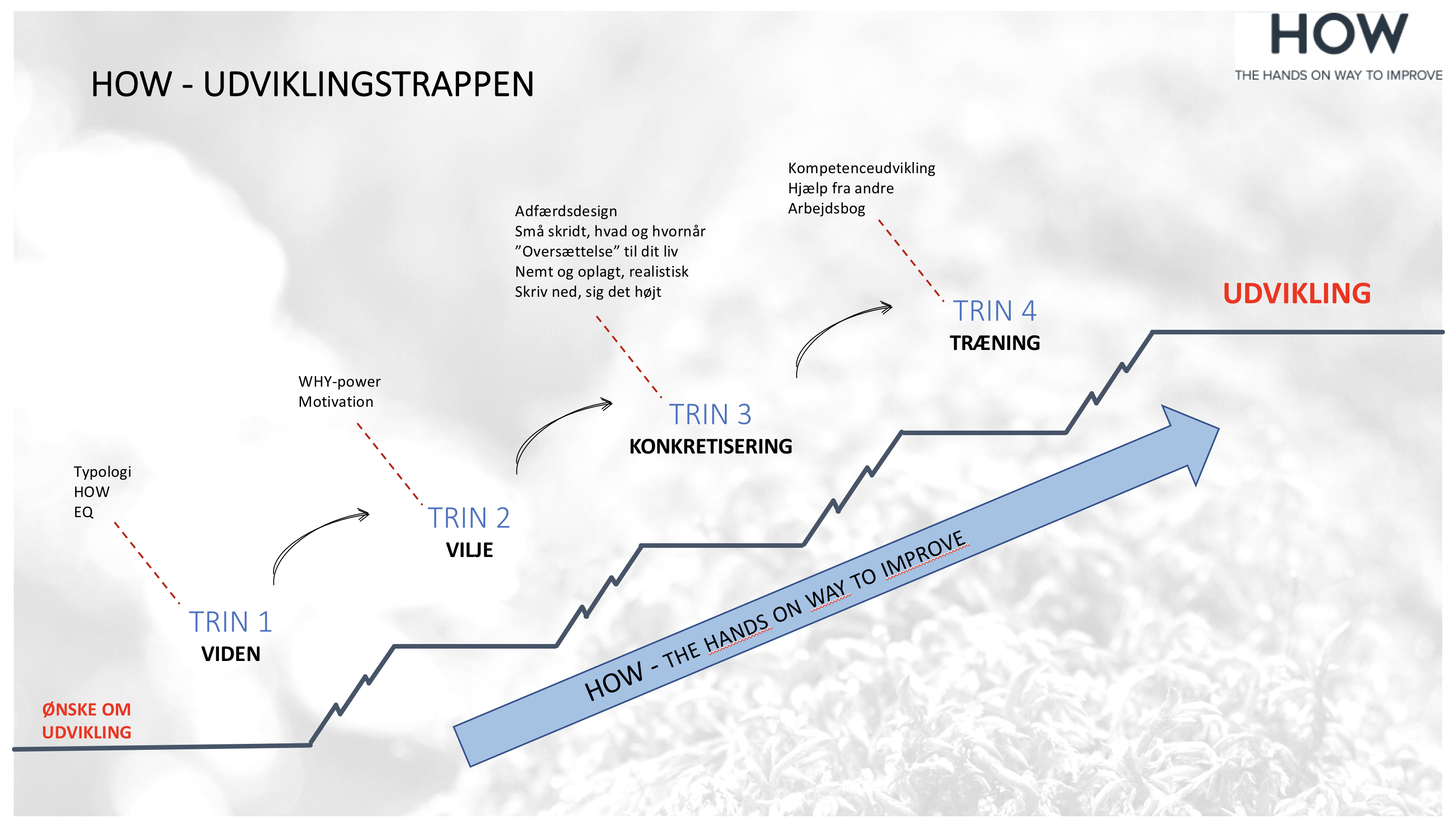 Would you like to order products or know more about HOW?
Call or write: +45 2480 3585 / tina@thehandsonway.com.